PingMe SMS Verification Code Helper
Bypass a verification code without owning a real sim card or purchasing an expensive carrier plan. A simple and easy way to achieve your goal.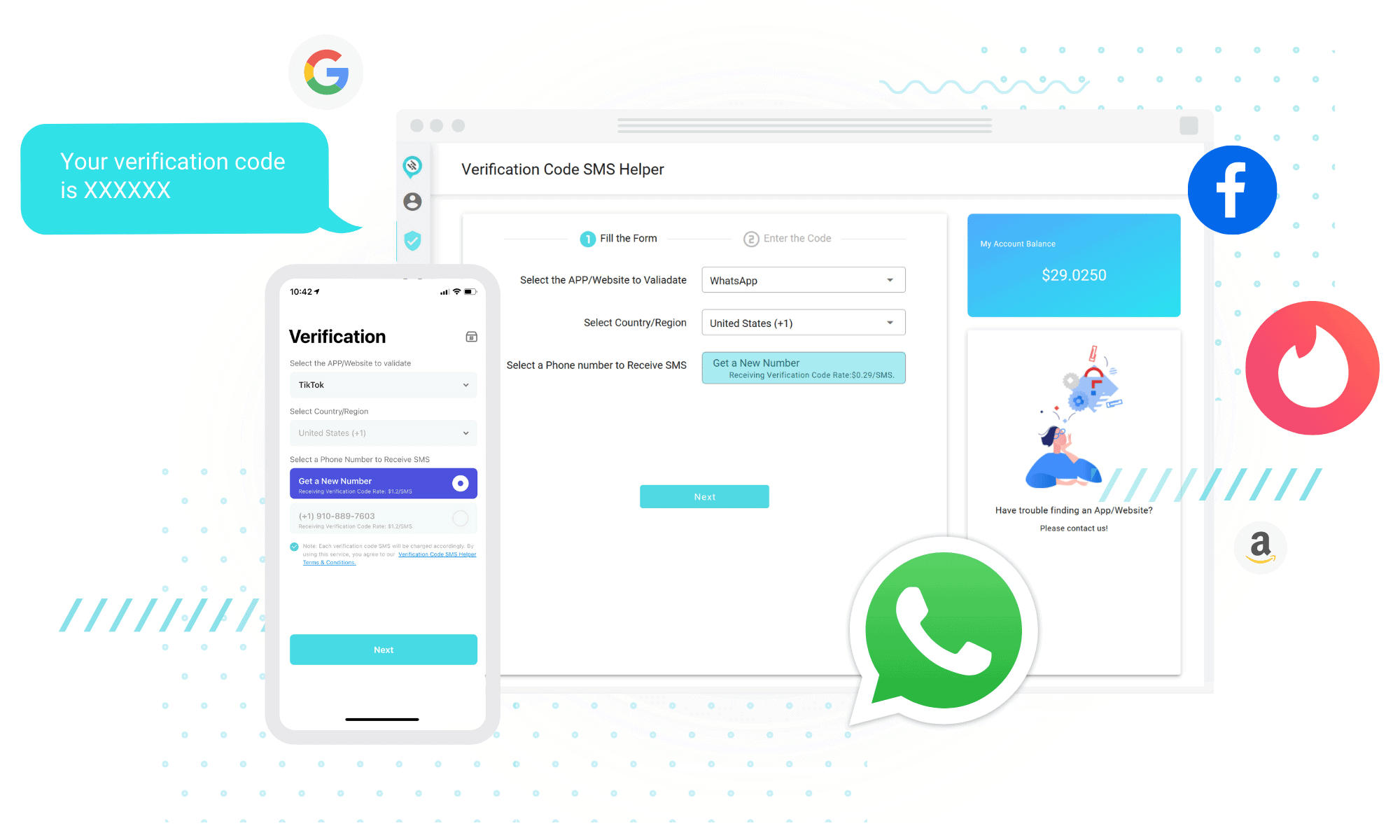 Travel Mobile Data on Big Sale This Summer!

How do I bypass a verification code?
Get Verification Codes from Dozens of Apps and More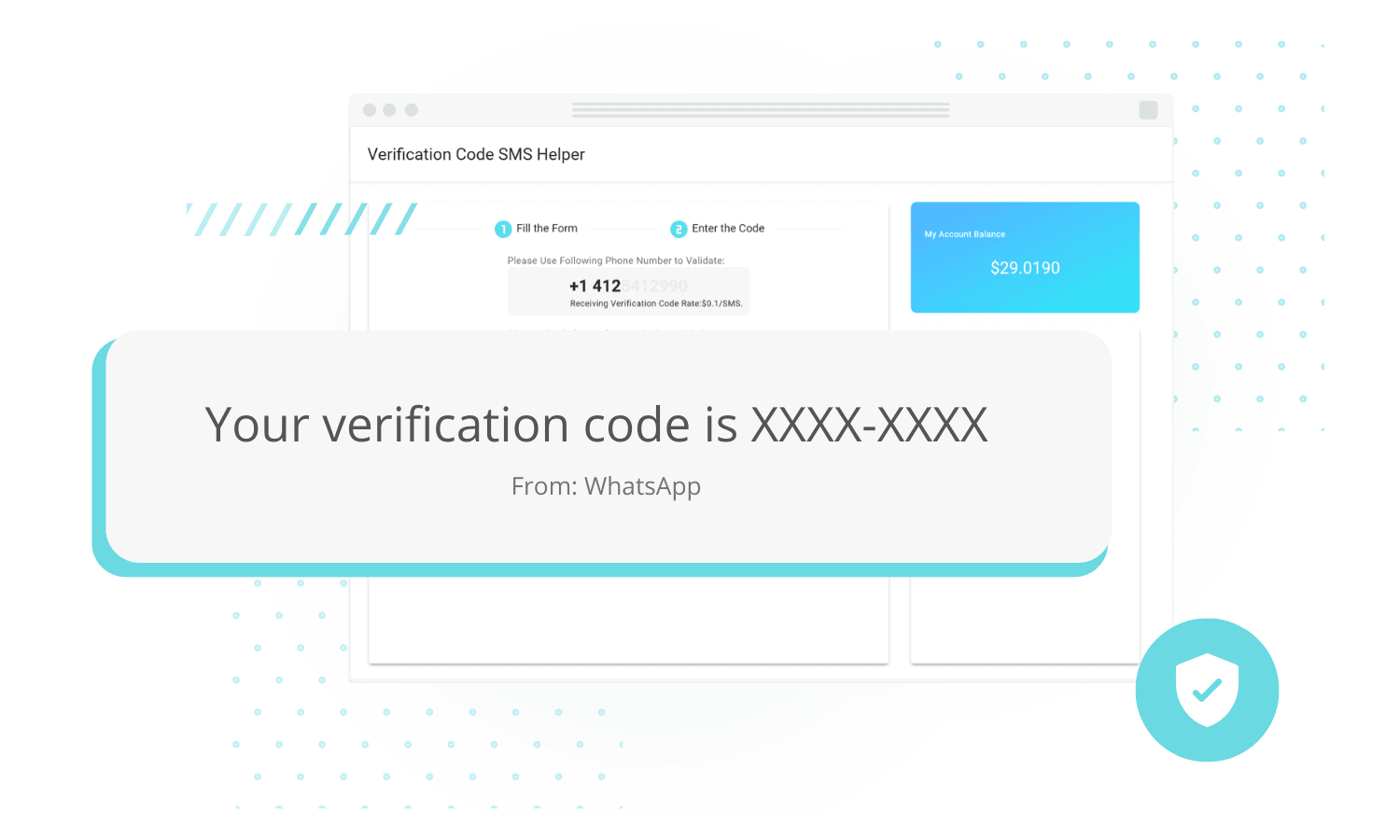 Why Use PingMe's SMS Verification Code Helper?
Bypass OTP by getting a verification code
Tired of creating passwords and remembering them? Bypass one time passwords by using our SMS verification code helper.
Keep your personal number safe & private
Avoid giving your primary phone number to apps and keep your personal information safe from spam and security threats.
Uses real phone numbers
Only real phone numbers are used to receive verification code texts. You can choose to keep these numbers for long-term use or dispose of them afterwards.
User Reviews of Our SMS Verification Code Helper
For example, I use it to create second anonymous accounts on apps like Facebook, Instagram, Whatsapp, and Amazon. I receive an SMS with the verification code immediately! It was so fast and affordable, I will definitely use their numbers again in the future!
The phone numbers provided by PingMe really work!
Highly recommended!
After using so many other receive SMS online apps to get verification codes with disatisfactory experiences, I stumbled upon PingMe. The prices were cheaper and they said that their numbers were already verified to work before we use them.
They kept their word!
I will be continuing to use them in the future!
I was looking for a way to register multiple accounts with different social media apps for the companies I worked with. Since I couldn't use my own personal phone number to register for multiple accounts, I needed a service that let me use a second real phone number to do so.
PingMe delivered on that!
Plus, I can keep the numbers afterwards!
Need to receive verification codes on your phone?
Bypass verification codes and keep the number you used on the PingMe mobile app. Manage multiple real phone numbers you used for logging in to different apps all in one place.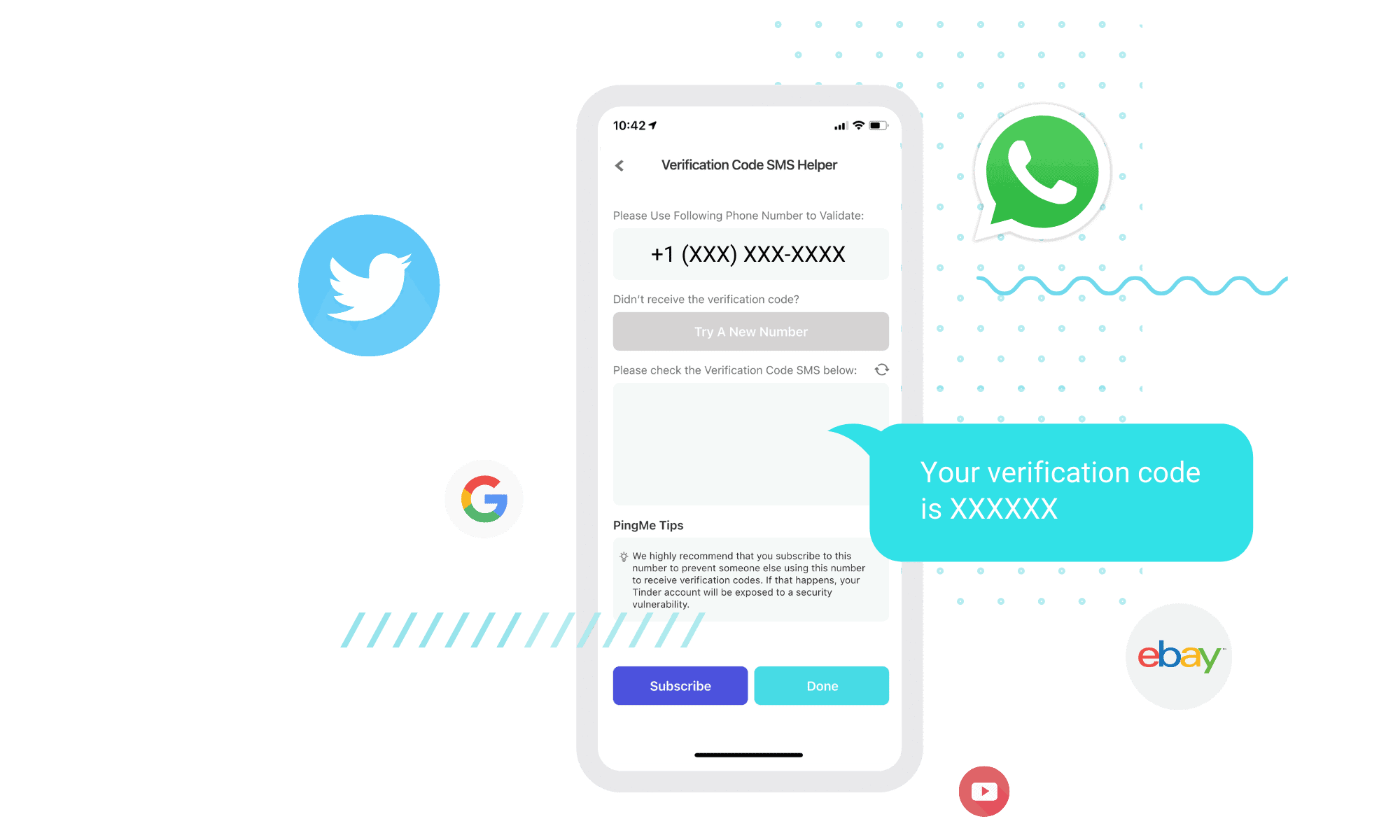 What is a SMS or text verification code for?
When registering for an account on an app or website like facebook, tinder or tiktok, they will usually ask you to provide a phone number so they can verify that you are the owner and for security reasons. They will send a verification text message to your phone containing a code that you will have to input on their end to sign up or log in.
Verification codes check for the credibility of phone numbers through which an account is being established. These phone numbers receive a message in which a verification code /number can be inserted into the form you're using and prove that you aren't an internet robot. You have an original phone number for the usage of forms.
How does the Verification Code Helper work?
PingMe will pre-verify if a phone number can receive SMS verification codes from an application. Subsequently, If the answer is yes, you are good to go. Therefore, you won't have to waste your money by buying a phone number that doesn't work for a certain app.
Sites like Facebook, Tinder, Bumble, etc. are incredily prone to malicious activities and are targetted by security threats, spam, and face accounts. Sometimes sites procure personal data of a user through the act of sending verification codes. Such data is used for surveillance, and sometimes this data can be used to spam the user with unnecessary and unsolicited information about their products or services.
Which Apps can I use this service with?
You can use it for almost any applications, as long as we have them listed on the app. If you don't see the app in the dropdown list, you can email us at [email protected]. We will pre-verify the application you want for you. Once we have finished confirming, we will notify you and then you can start using it.

Are these fake mobile phone numbers?
No, they are not fake phone numbers, but real phone numbers. The only difference is that you own these numbers. PingMe is there to help you receive SMS verification codes for temporary use or for texting application purposes. So don't use these phone numbers to send or receive confidential,secure information, such as for banking or financial purposes.
Are you going to charge me if I didn't receive a verification code?
No, you will only be charge when you receive an app's verification code. Please note, the service we provide covers receiving SMS only. We are not responsible for any incidents that occur outside of the verification process. Please see our terms and conditions for the SMS verification code helper for more information.
How can PingMe help me protect my privacy?
PingMe is an app that enables you to use a second disposable phone number to register for apps. Consequently, you won't have to compromise your personal phone number and the information associated with your phone.
Save your primary number from being bombarded with spam, unwanted data-mining, and data collection from third parties who can monitor your actions. It also protects you from any breaches of security on the end of the app. By using a private, second phone number, you can avoid these dangers and protect your personal information from being leaked.
How does PingMe work?
PingMe is an application that allows you to get verification codes without purchasing another SIM card or expensive carrier plan.
PingMe is an application that allows you to get verification codes without purchasing another SIM card or expensive carrier plan.
Use this application to get codes from dozens of different apps. When you enter a phone number from the SMS verification code helper into an app, that app will send you the verification code. Next, you can enter into the app without giving them your real primary phone number. Not only can this be used for login or sign-up purposes, but also when apps ask for you phone number for security reasons like Google.
What is the authenticity of PingMe?
PingMe is a multi-cloud based VoIP service provider that helps you to make both local and international calls and texts at a cheap price. A common misconception among people is that such apps use real phone numbers, which is not true of PingMe. PingMe uses actual, real phone numbers from the USA, Canada, and the United Kingdom that its users can own by subscribing to the number.
This app helps in the process of receiving SMS verification codes from apps where you want to create accounts. However, we highly discourage you from using these phone numbers for confidential purposes or banking purposes. You will expose yourself to security breaches and threats. The only thing you are charged for on the app are for the verification code text messages that you've received and phone numbers you have subscribed to. This application ensures a safe and hidden experience for its online users by giving you the help you need when receiving verification codes.
Ready to get your verification code?