How To Register a ChatGPT Account With a Virtual Phone Number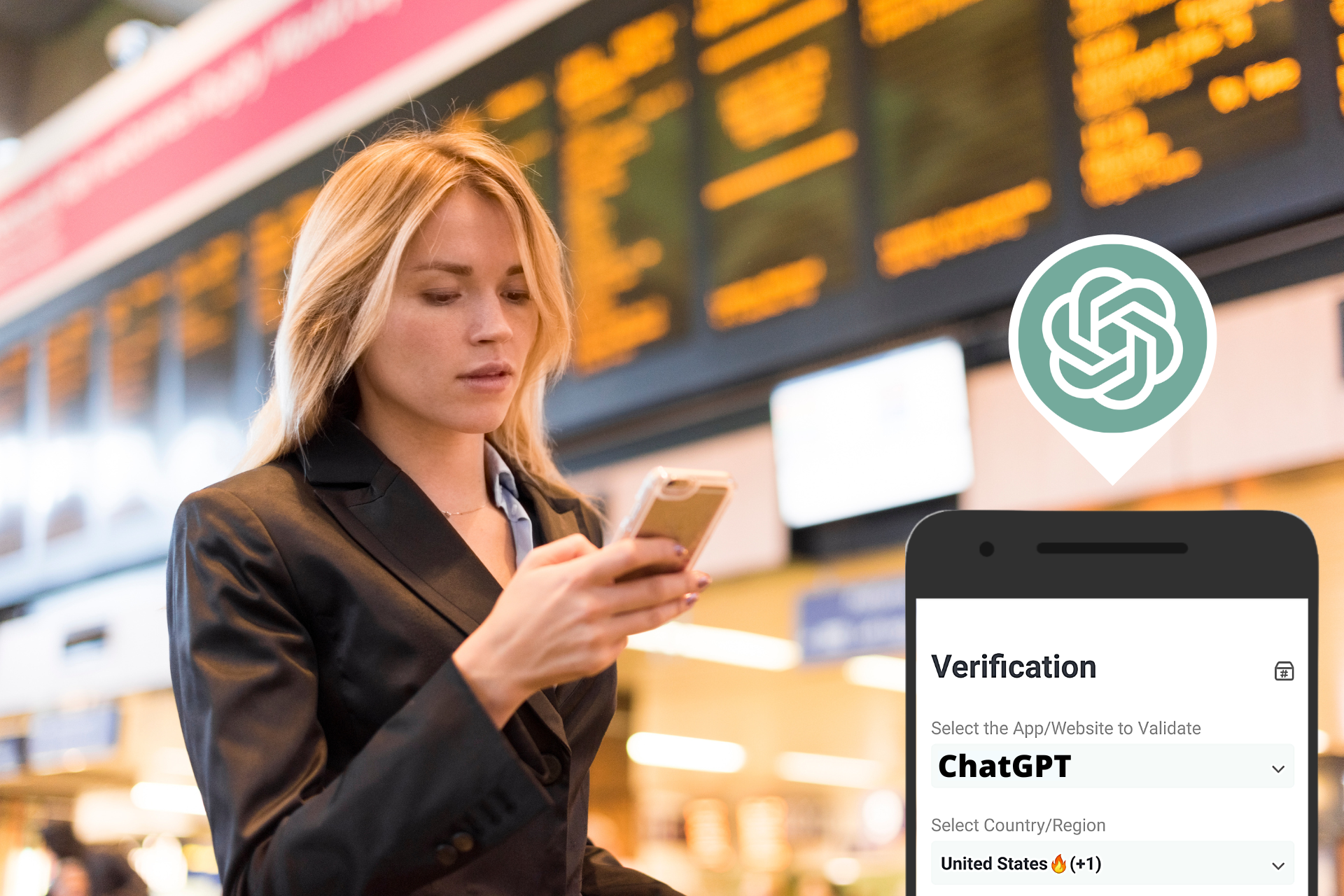 UPDATE:
A new feature on the PingMe app called Verification SMS Code Helper has been added to make receiving verification codes even faster and easier.
User discretion is advised
Want a discount?
For new users only, download PingMe now to get $0.2 free credit towards receiving your verification code.
Looking for a virtual phone number for registering your ChatGPT online? PingMe will help you get a verification code without your own number for ChatGPT!
Rule-based chatbots: These are simple chatbots online that follow a set of pre-determined rules to answer customer queries.

Self-learning chatbots: They use artificial intelligence and machine learning 

algorithms to learn from customer interactions and improve their responses over 

time. 

Virtual assistants: These chatbots are designed to perform various tasks, such as booking a hotel, ordering food, or managing schedules.

Customer service chatbots: These chatbots online are designed to help customers 

with basic customer services inquiries, such as account information or product 

support. 

E-commerce chatbots: These chatbots online are designed to help customers with online shopping and can assist with product recommendations and order tracking.

Each type of chatbot serves a specific purpose and can be customized to meet the needs of businesses and their customers.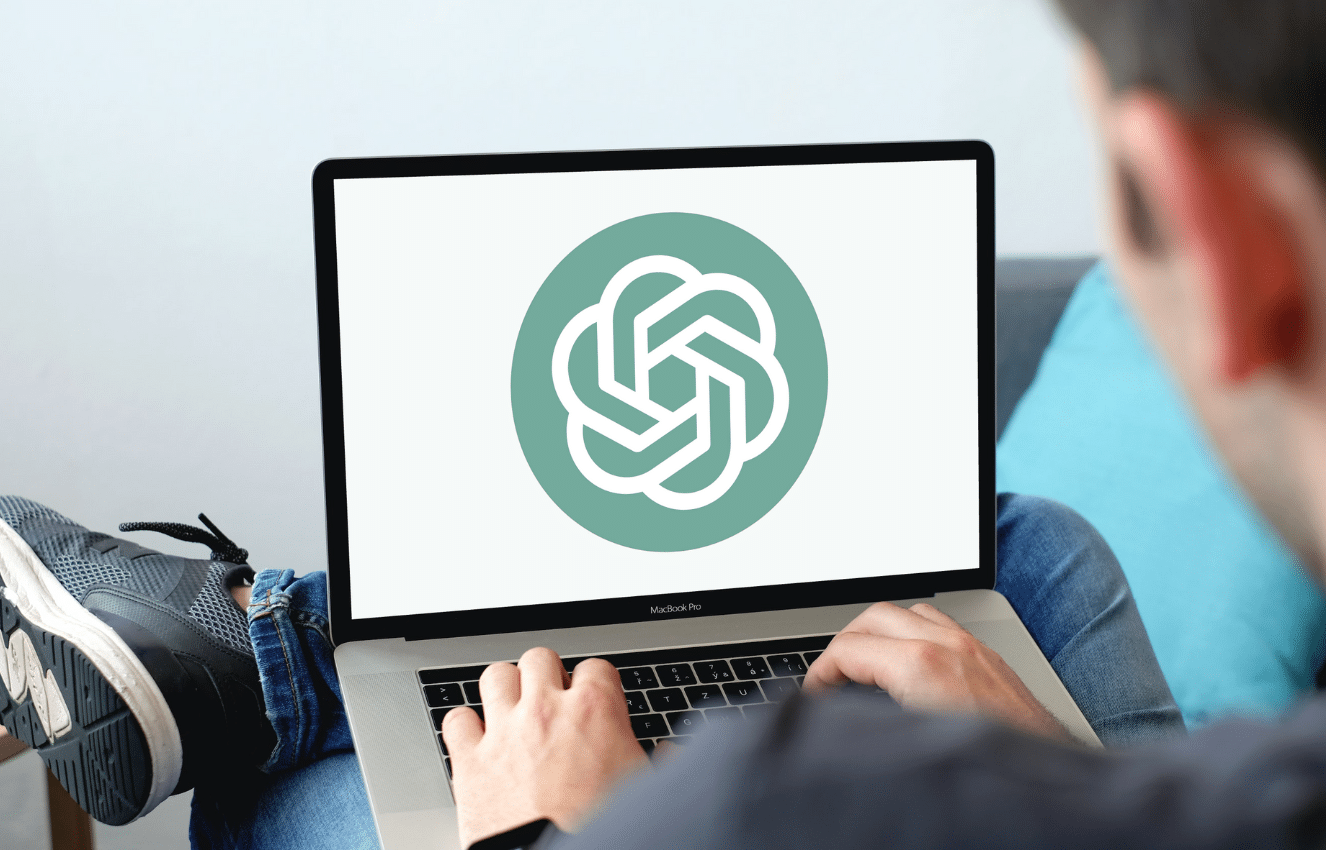 How To Register An Account on ChatGPT
ChatGPT is a powerful language model developed by OpenAI that can be used to generate copy and answer questions. It has been trained on a massive expanse of text data and can understand and respond to various topics and questions that you ask.
If you're interested in using ChatGPT, you'll need to register an account first. To start, here's a step-by-step guide on how to do that:
Go to the OpenAI website.

Click on the "Sign Up" button located in the upper right corner of the page.

Fill out the required information, such as your name, email address, and password.

Read and accept the terms of use and privacy policy.

Verify your email address by clicking on the verification link sent to your email.
Once you've verified your email, you'll be able to log in to your OpenAI account. From there, you can access the ChatGPT API and start building your language-based applications.
If you have trouble registering an account, OpenAI provides a help center with detailed information and support. Registering an account on ChatGPT is a straightforward process that can be completed in just a few steps.
With your account, you'll have access to the powerful language model and be able to start building your language-based applications. Whether you're a developer, researcher, or simply curious, ChatGPT is a great tool to help you achieve your goals.
The Basics of the ChatGPT API
ChatGPT is an AI model developed by OpenAI, designed to generate text and respond to questions. It is built using the transformer architecture and is trained on a massive library of text data, enabling it to understand and generate text on various topics.
The core function of ChatGPT is to take input and generate a continuation of that text, either in the form of a response to a question or a continuation of a given context. It uses deep learning techniques to analyze the input prompt and generate a coherent and relevant response.
ChatGPT can be used for various applications, including language generation, text completion, question-answering, content creation, and conversation. It has been integrated into various platforms and can be used to build custom applications that leverage its language processing capabilities.
To use ChatGPT, you must have an OpenAI account and access to the ChatGPT API. With these tools, you can start experimenting with the model and building your own language-based applications. The API provides a simple interface for interacting with the model, allowing you to easily generate text or retrieve answers to questions.
Whether you're a developer, researcher, or simply curious, it is a great tool to explore and experiment with. With its ability to generate text and respond to questions, ChatGPT is a helpful resource for anyone looking to advance their understanding of language processing and AI.
How to get a virtual phone number
A virtual phone number is a phone number that is not linked to a physical phone line.
The easiest workaround to get an Virtual Phone Number is by using the PingMe app. This way, you need not go through long and complicated steps to get the whole thing done. All you need is to follow four easy steps and create a ChatGPT profile without a phone number.
PingMe app is an online platform that lets you circumvent SMS Verification. You can use a fake phone number to receive ChatGPT SMS verification online. Using this app, you can instantly get a temporary phone number that doesn't belong to you and sign up on ChatGPT.
So, let's get to the five easy steps to get SMS verification ChatGPT without any further ado.
How to Creat a ChatGPT Account Using PingMe App?
Step 1:
Download the PingMe app on your iOS or Android device. You can easily find this app on Google Play Store or App Store. Also, download the Grindr Android or iOS app if you haven't done that already.
Step 2:
Launch the PingMe app and tap the "Verification" Tab. Now select the name of the app from which you want to get the code under the option "Select the App/Website To Validate." In this case, you will select ChatGPT/Open AI.
After completing the step mentioned above, go to the next option of "Select the Country/Region." Select the country, and finally select the phone number to receive the SMS. Due to the restrictions on phone numbers by openAI, it is currently recommended to use UK numbers to register for ChatGPT.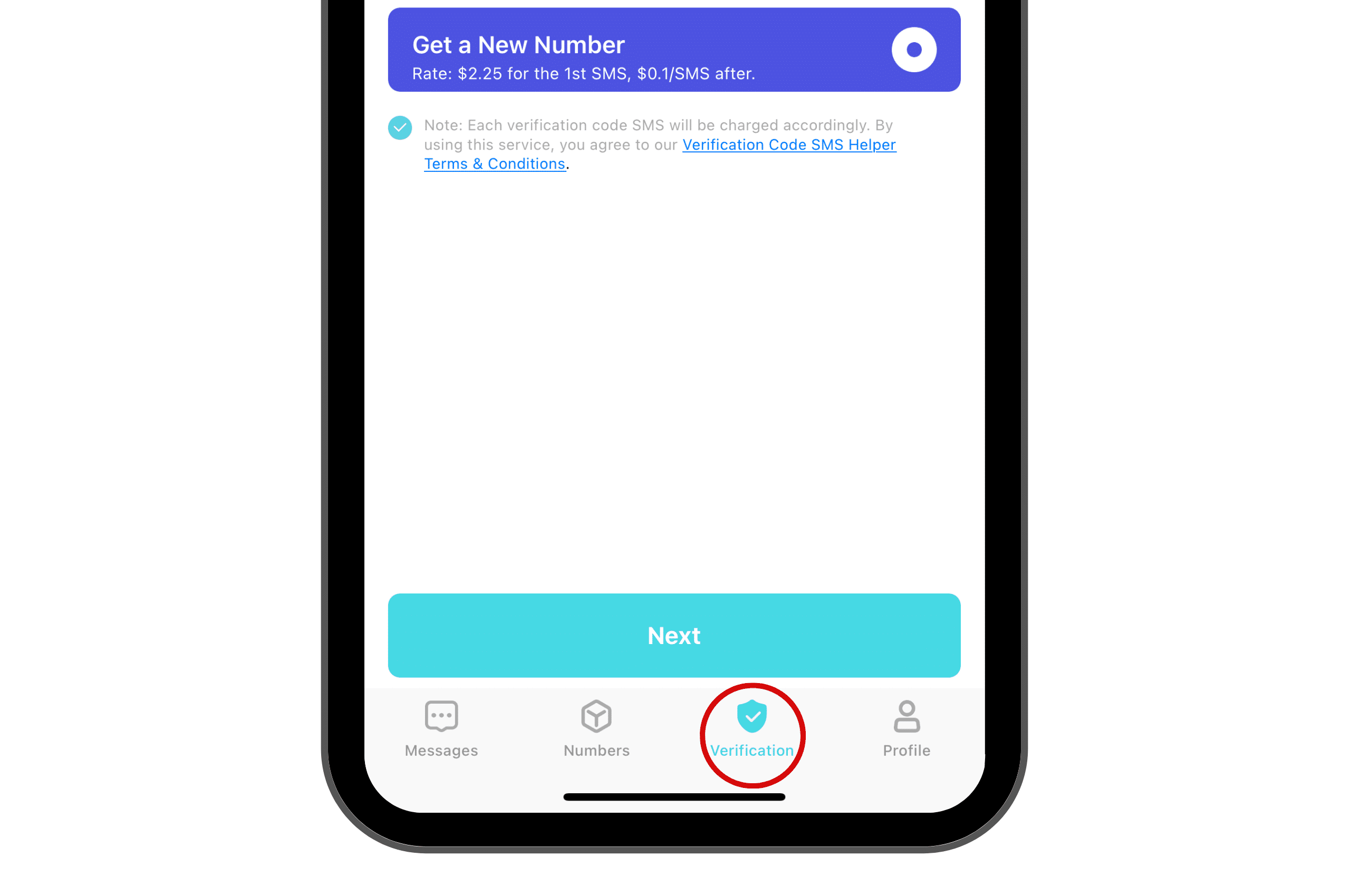 Step 3:
This will then generate a private phone number for you to get the ChatGPT Verification Code. Now you only have to enter that number into your ChatGPT website. Then you will receive a verification code for ChatGPT.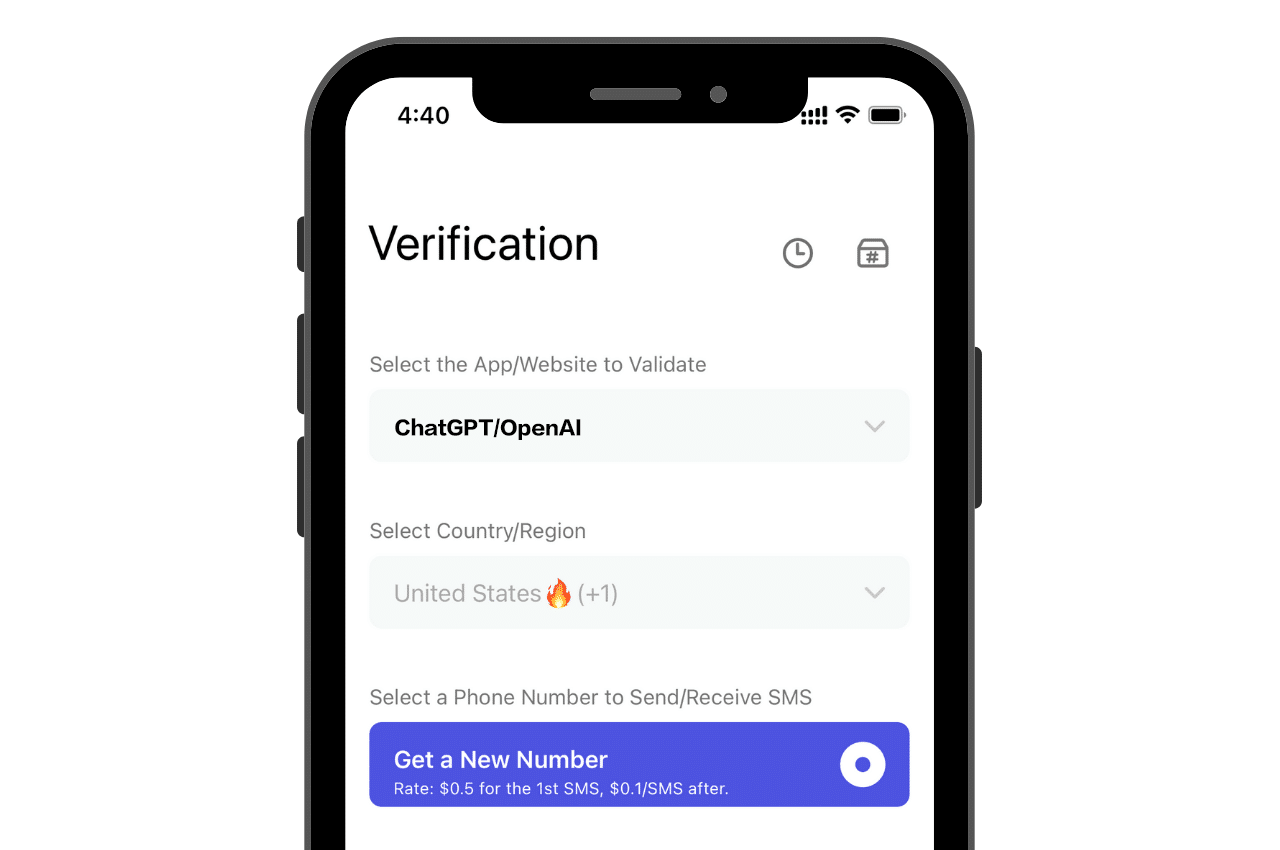 Step 4:
Check your PingMe App to find the ChatGPT verification code that will appear in the unfilled text field.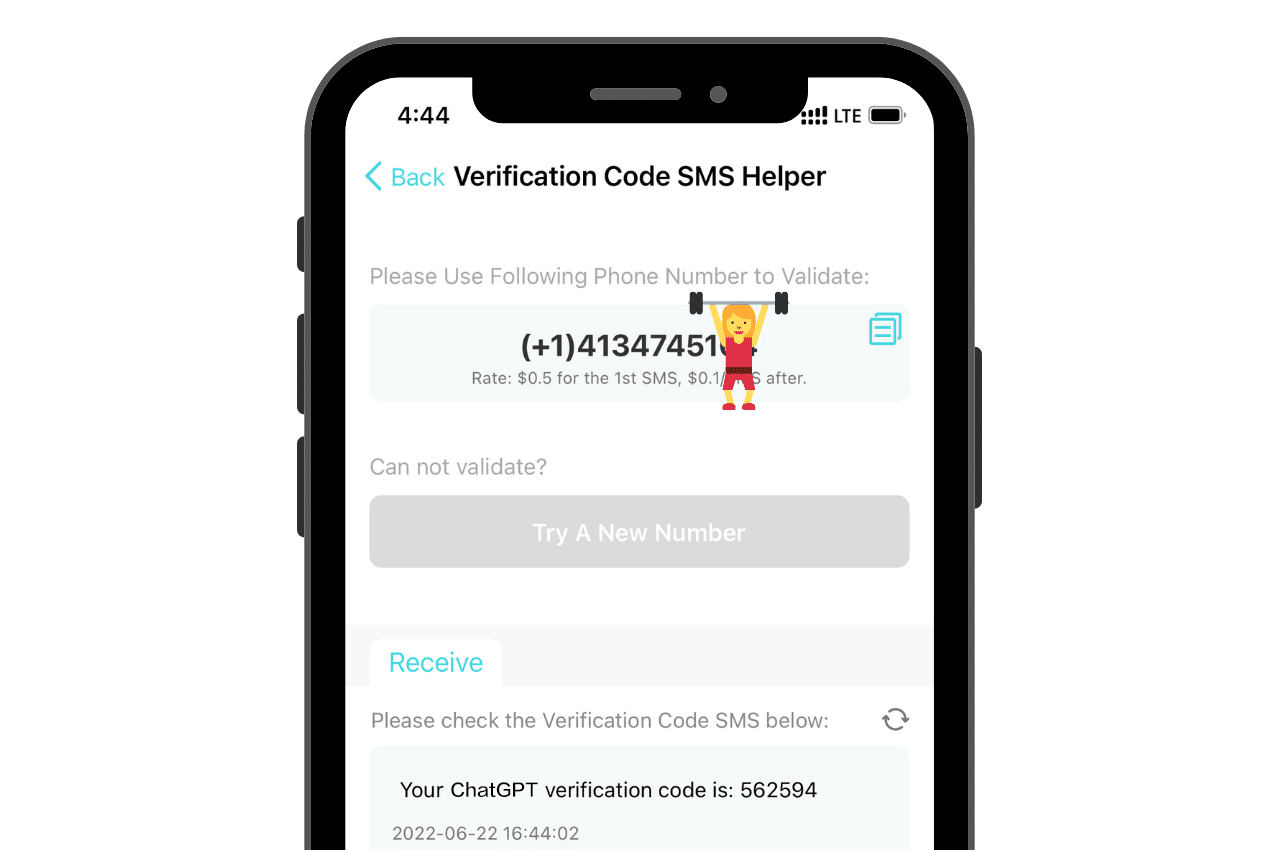 Step 5:
Make sure you enter the exact same verification code as shown in the PingMe unfilled text field into the ChatGPT Website.
Done with these steps? Woah, you've finally got an SMS verification ChatGPT without revealing your actual number.
Wasn't it easy? What if we say there is an easier way too.
How To Use the pingMe App to Get a Virtual Phone Number
PingMe is a virtual phone number app that provides users with a convenient and cost-effective way to make and receive calls and messages from anywhere in the world. It offers a range of features and benefits that make it a valuable tool for personal and business use.
One of the benefits of PingMe is its ability to create a local presence in multiple countries. With a virtual phone number, you can have a local phone number in a different country, allowing you to receive calls and messages from that country as if you were physically located there. This can be especially useful for businesses that want a local presence in multiple countries.
Another benefit of PingMe is its flexibility. You can configure your virtual phone number to ring multiple devices, including your landline or mobile phone, so you never miss an important call. You can also use PingMe to make calls from your virtual number, so you can keep your personal and work phone numbers separate.
PingMe also integrates with the ChatGPT API, allowing you to create an online account with ChatGPT. This integration provides access to the powerful language model, allowing you to build custom applications that leverage its language processing capabilities.
Whether you're a developer, researcher, or simply curious, the integration of PingMe and ChatGPT provides a valuable tool for exploring and experimenting with language processing and AI.
In conclusion, it's easy to set up an account on chatGPT without having to use your own phone number, this also allows you to open multiple accounts using a virtual phone number through the PingMe app service. This is helpful if you need to create multiple chatGPT API accounts to help with your venture or business, which is hard when you only use a single phone number tied to you.
Head over to PingMe to set up your virtual number and begin creating your account with ChatGPT.
Ready to get your verification code?
Keep your primary number for those who matter. Using PingMe to get a verification code is fast, safe and secure.
First time users get a gift of $0.2 free credit to use towards getting a verification code.