How to Bypass SMS Verification for Apple ID Using a Virtual Number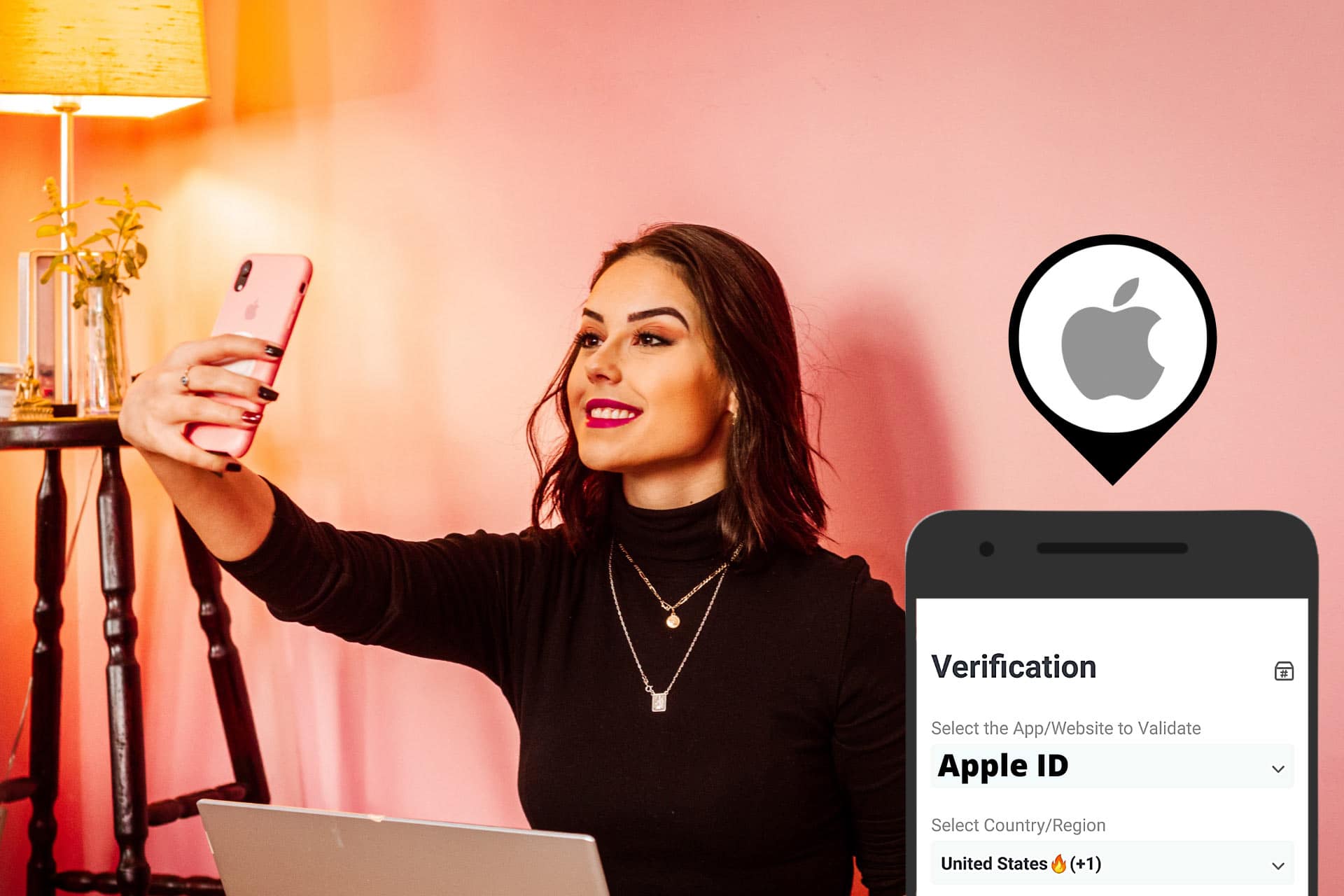 UPDATE:
A new feature on the PingMe app called Verification SMS Code Helper has been added to make receiving verification codes even faster and easier.
User discretion is advised
Want a discount?
For new users only, download PingMe now to get $0.2 free credit towards receiving your verification code.
Do you want to add an Apple ID phone number to create a new Apple ID account but don't have a number yet? Are you stuck at the SMS verification Apple ID step?
This article explains how you can get an Apple ID verification code through a virtual number. Keep reading to find out!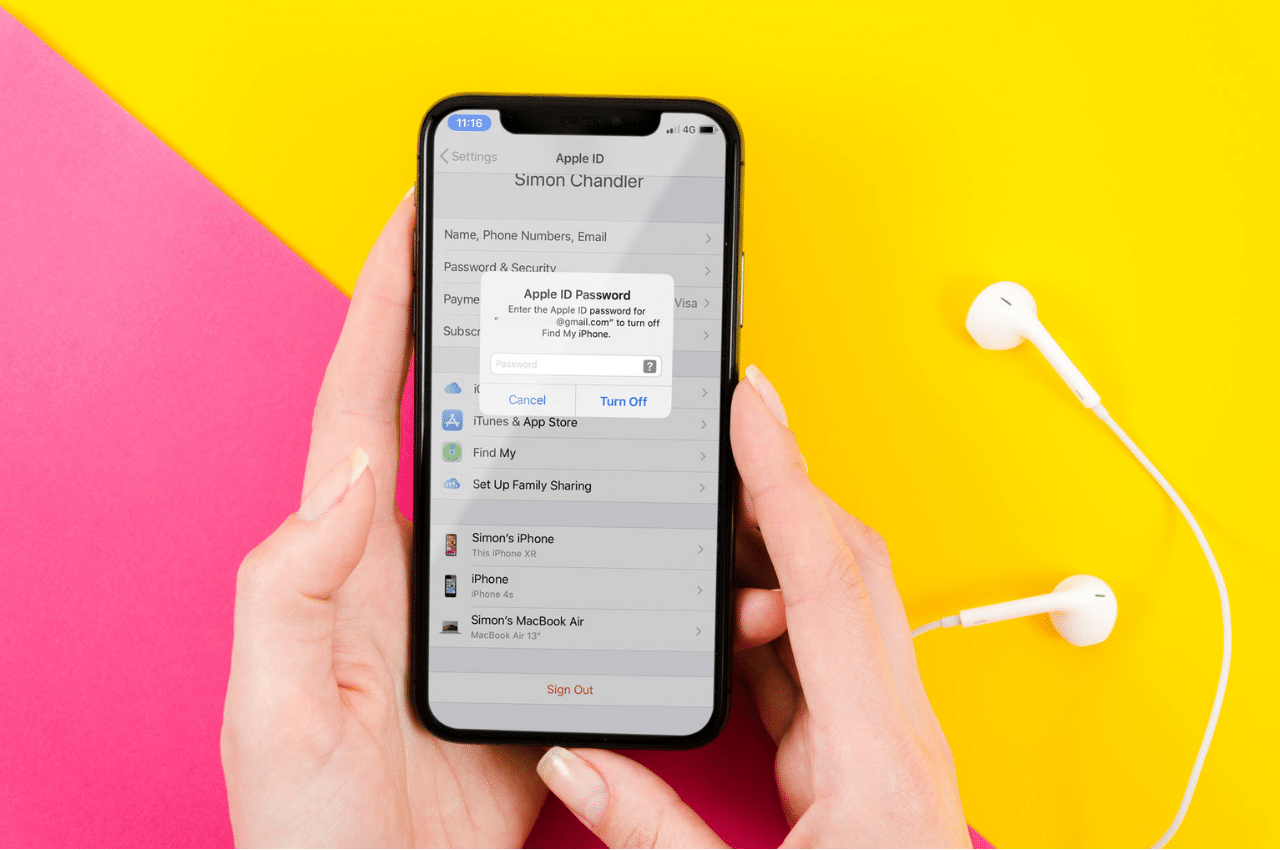 If you are an iPhone or any other Apple device user, you need an Apple ID to use the services offered by Apple. This ID will let you make purchases, sync your data, track your lost device, and much more.
People having an Apple account can use the following service through an Apple ID account.
App Store to download and install apps
FaceTime to have a video chat with other Apple users
Find Me to track your lost Apple device
iMessage to send messages to Apple users from your contact
iTunes to download or purchase tunes
Game Center to download and install games
Family Sharing to share Apple services with family members
iCloud to store data
Sign in with any Apple device to synch contacts, photos, and settings, etc.
Why Should You Have a Second Phone Number for Apple ID SMS Verification?
You can use a second phone number for SMS verification Apple ID if you have lost your primary phone and currently do not have a number to create an Apple ID account. You can also add a second phone number along with your primary phone number to make sure you get notifications on it in case you lose your primary phone number.
Apple will ask you to provide your email, along with a phone number to provide security to your Apple ID account.
Get a Verification Code for Apple ID
You can get a virtual number through apps like PingMe to use for SMS verification Apple ID. PingMe is an easy-to-use and affordable app. It can generate a number for you at a very low cost. You can use the same number to make calls and send or receive messages.
You can get a virtual number by following the steps described below.
Step 1:
Open Google Play Store from your android or open App Store if you have an iPhone. Download and install the free PingMe app to get the Apple ID verification code.
Step 2:
Go to the "Verification" option located in the navigation bar. It has a shield symbol that will help you to recognize it.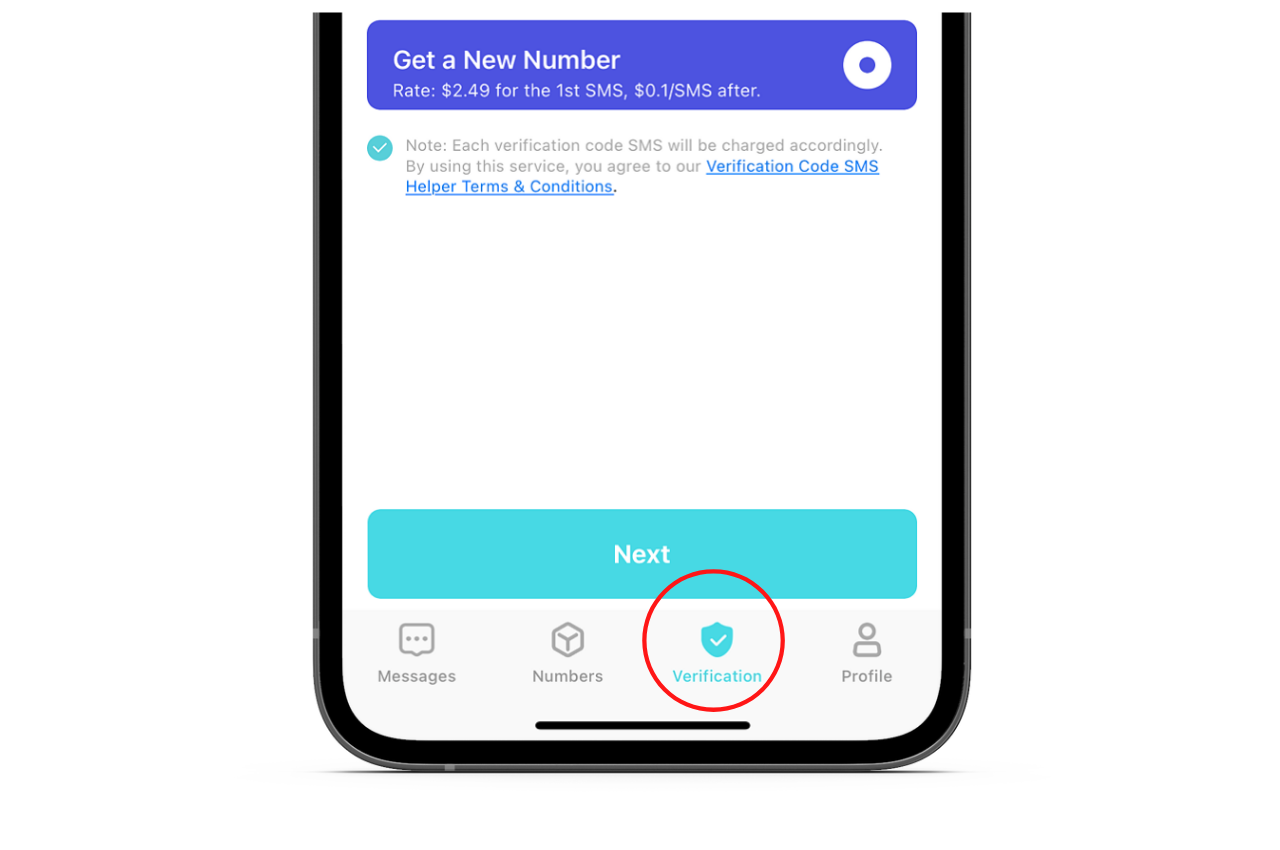 Step 3:
Three blanks, each with a particular text above it, will appear on your device's screen. The first blank will have the text that reads "Select the App/Website to Validate." Since you are trying to create an Apple ID account, select Apple ID from the dropdown options.
Move to the second blank or option that reads "Select the Country/Region." Now type the name of the country whose Apple ID phone number you want. You can get a phone number for SMS verification Apple ID from any part of the world.
Move to the last option, which is "Select the Phone Number to Receive SMS." Here, choose the Apple ID phone number. Tap on the "Next" button after filling in the above-mentioned three options.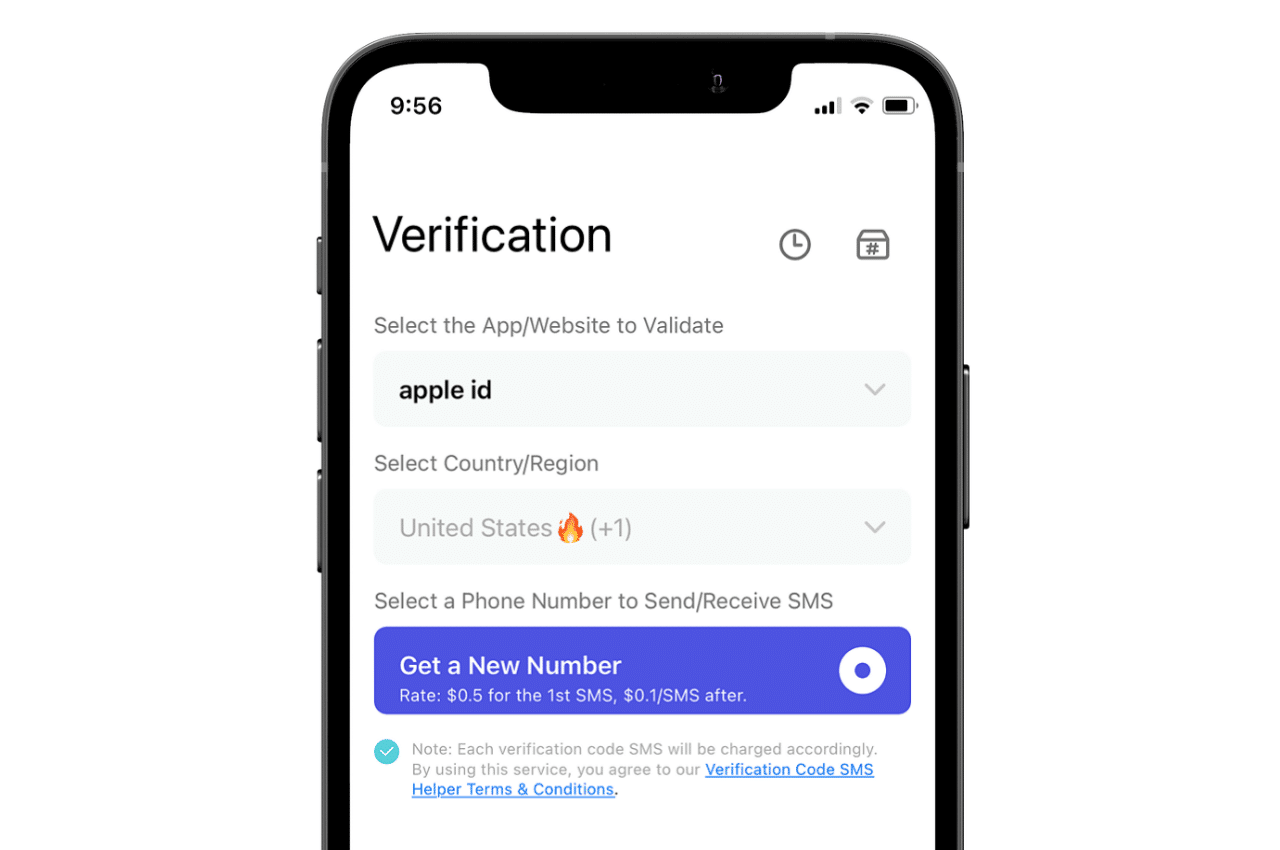 Step 4:
The PingMe app will generate an Apple ID phone number for you. Enter this number in the requirements section that you need to fill to create an Apple ID account.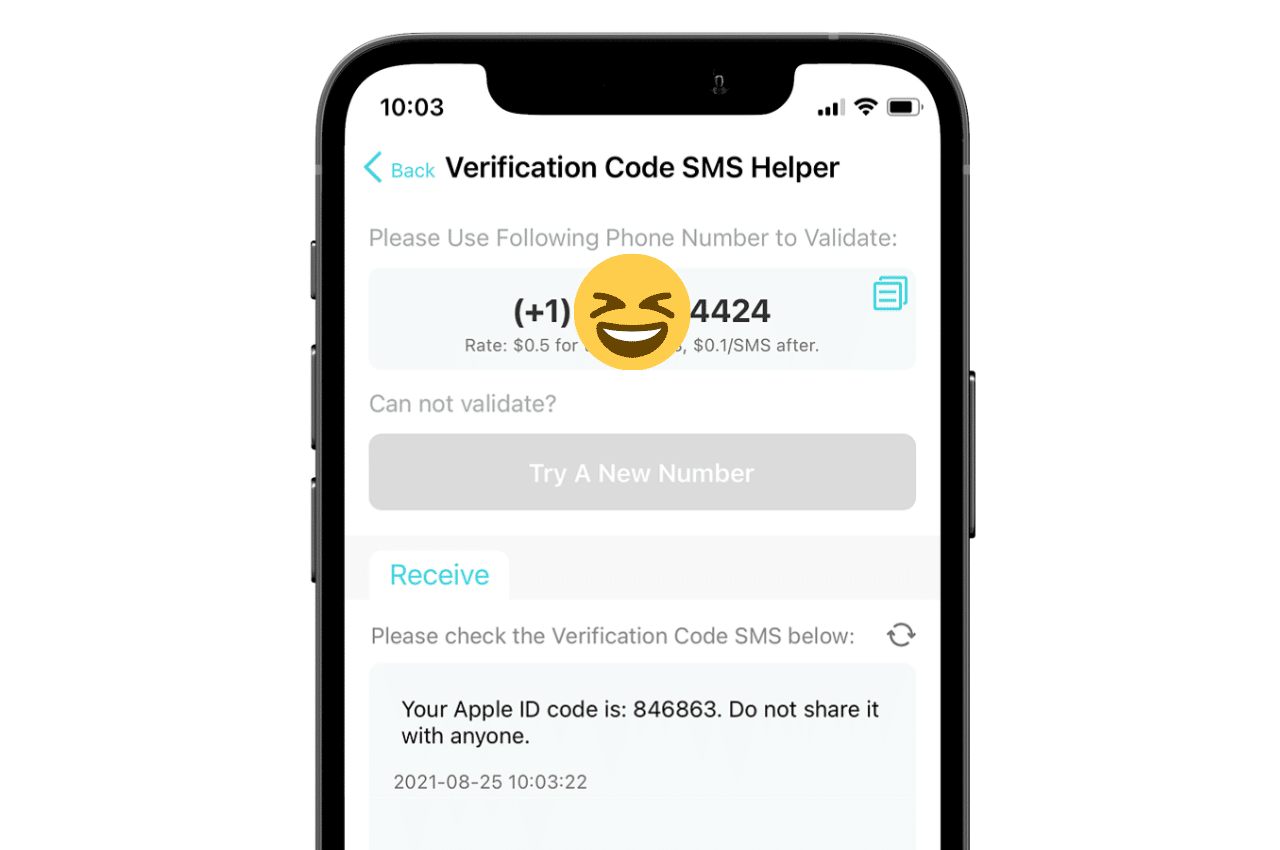 Step 5:
You will receive an SMS verification Apple ID in the empty box under the text "Please Check the Verification Code SMS Below." Note down the Apple ID verification code and enter it into the blank verification code space. Your Apple ID account will now be fully activated. Use it as you like.
On rare occasions, you may not receive an Apple ID verification code. If that is the case, get another Apple ID verification number by choosing the "Try a New Number" option. We hope this time you will get a number to use for Apple ID account creation.
How to Get an Apple ID Verification Code Online
If you have lost your phone, you can still have SMS verification Apple ID by using PingMe WebChat. PingMe has introduced this feature to make the process of using a second phone number for Apple ID verification code easier for its users. So, get the verification code in a few clicks by using the WebChat feature.
If there is any confusion about using PingMe, you can check our simple video tutorial here.
How to manage my trusted phone numbers on my Apple ID?
Follow the steps described below to manage your trusted phone number.
Open appleid.apple.com page.
Enter your Apple ID to sign in.
Open the "Security" section and go to "Edit."
Click on the "Add a Trusted Phone Number." Enter your second phone number for additional security. Verify the number by choosing either the verification message option or the verification call option.
Click on the "Continue" button.
If you want to remove a phone number, then simply click on the cross sign (x) located at the top right corner of the number.
How does two-factor authentication work for my Apple ID?
Two-factor authentication is used to ensure that the person trying to log in using your ID is really you. You will have to enter an Apple ID verification code to log in to your Apple ID. You will receive this code on the trusted number that you had entered while activating the two-factor authentication. Entering the code is mandatory. You will not be able to access your account even if you enter the right password.
Why couldn't I get a verification code from Apple?
It might be because you are trying it from an Apple device that you are trying to set up. You can get the code from another trusted device through its settings.
Open "Settings" and go to the "iCloud." Click on the Apple ID username. Now click on the "Get Verification Code" if your Apple device is offline. But if your device is online, go to the "Password & Security" and click on the "Get Verification Code" option.
Ready to get your verification code?
Keep your primary number for those who matter. Using PingMe to get a verification code is fast, safe and secure.
First time users get a gift of $0.2 free credit to use towards getting a verification code.