How to Get SMS Verification from Instacart Using a Virtual Number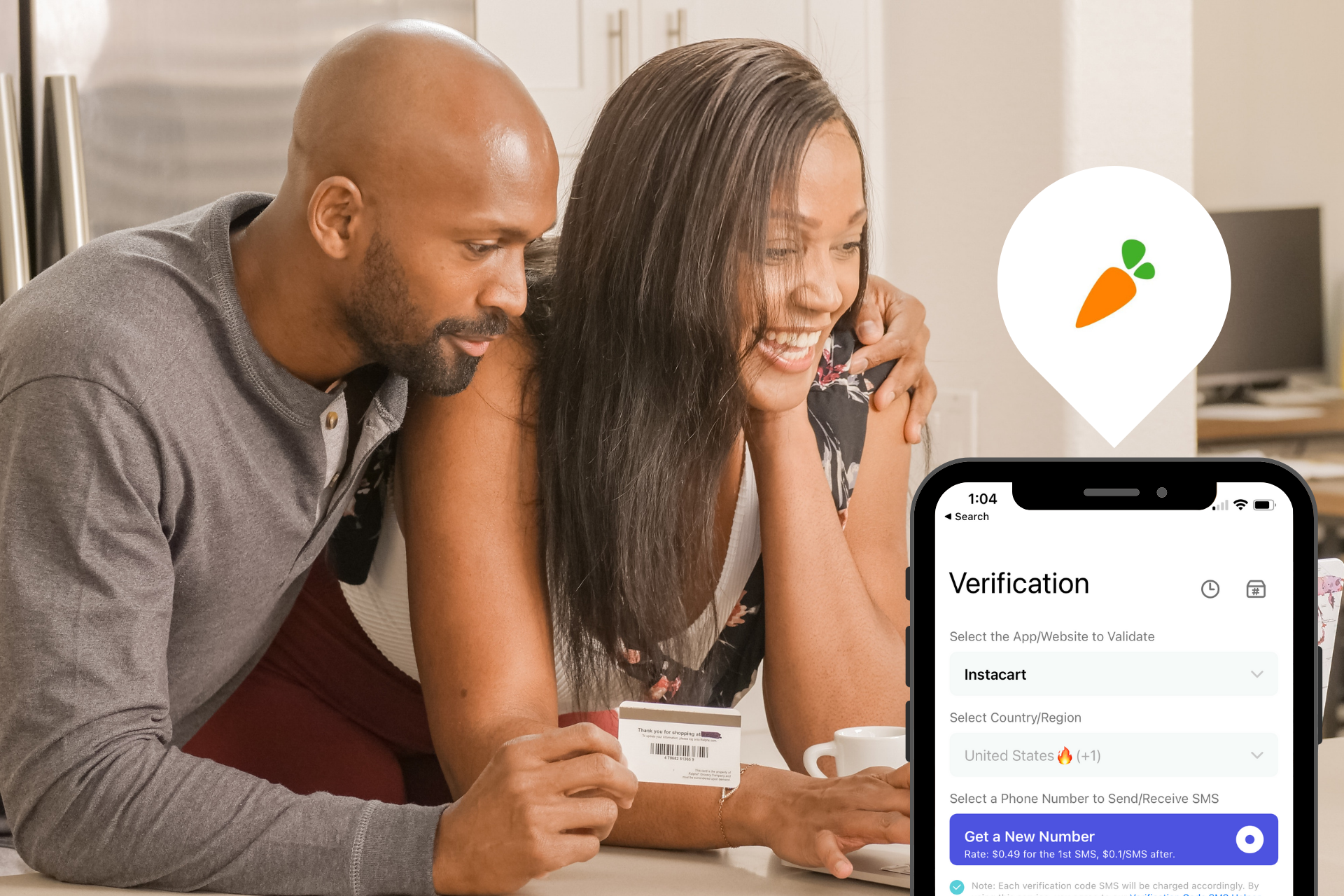 UPDATE:
A new feature on the PingMe app called Verification SMS Code Helper has been added to make receiving verification codes even faster and easier.
User discretion is advised
Want a discount?
For new users only, download PingMe now to get $0.2 free credit towards receiving your verification code.
Want to buy groceries using the Instacart app safely? Get a virtual phone number to Instacart, receive SMS and have an Instacart verification code without using your personal number.
In this simple guide, we will tell you how you can bypass SMS verification for the Instacart app and enjoy delivery grocery whenever you want.
Instacart is an American grocery delivery company that was founded in 2012. It claims to offer millions of grocery products, and it delivers these products in more than 5,000 cities in the USA and Canada.
People who do grocery shopping frequently find this marketplace beneficial in many ways. Here are the reasons why people love the Instacart app.
It allows you to shop from thousands of grocers and retailers while sitting at your home.
With Instacart, there is no need to leave the comfort of your home and spend hours on grocery shopping in a store. You can buy as many products as you want in a few clicks by using the Instacart app. This large marketplace has everything people need, so buying groceries through it saves a lot of time.
The Instacart app is very easy to use for people of all ages. You can shop from thousands of stores according to your needs. All you need to do is download the app, go through the Instacart login process and verify your account to get started.
Instacart does not take a delivery fee if your order is over $35.
It is available in many US and Canada places.
You can buy their membership to save more on your orders.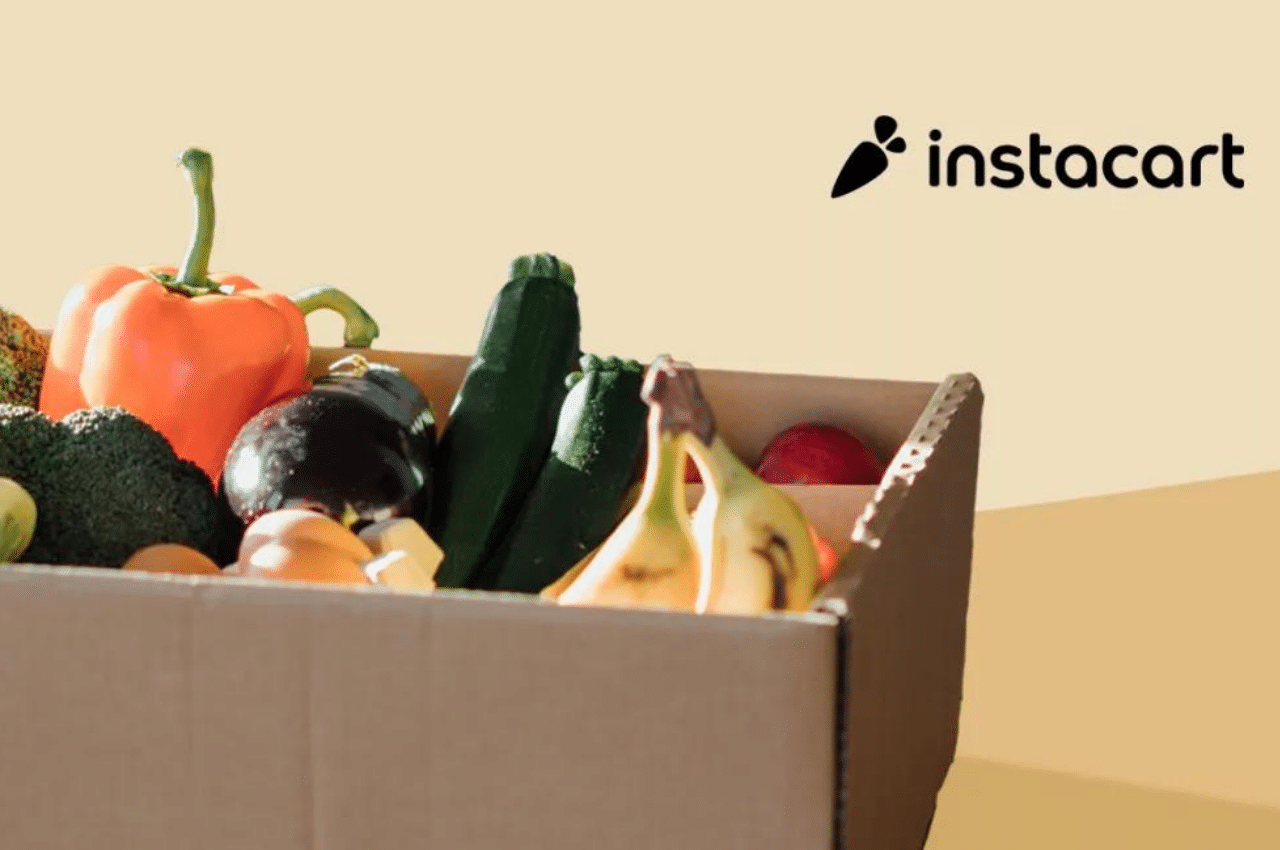 Instacart customers can buy products using either the Instacart app or the Instacart website. They have their own virtual carts that they can fill with different items while shopping from different stores.
This marketplace offers same-day delivery service to customers who need their deliveries fast. You can also plan your orders beforehand and request delivery on a different day.
If something has gone out of stock, your shopper will inform you in the app, or they may also offer you its suitable alternatives.
Bypassing Instacart SMS Verification Codes with PingMe
Instacart requests its users to add their phone numbers for verification purposes. If you add your number, you will receive marketing messages that can be annoying at times when you are not interested in them. In addition to these messages, your personal number can get leaked from this online platform, putting your personal information at risk.
The best way to avoid these issues is to use a virtual phone number for verification. You don't need a SIM card to use this number. Just download an app like PingMe and request the number whenever you want.
Here is the step-by-step guide to requesting a number to Instacart receive SMS.
Step 1:
The first thing you need to do is download the PingMe app to your phone. You can find it on Apple Store as well as Google Play Store. You should also install the Instacart app if you have still not installed it on your phone.
Step 2:
Open the PingMe app and press the 'Verification' button located at the bottom of the navigation bar.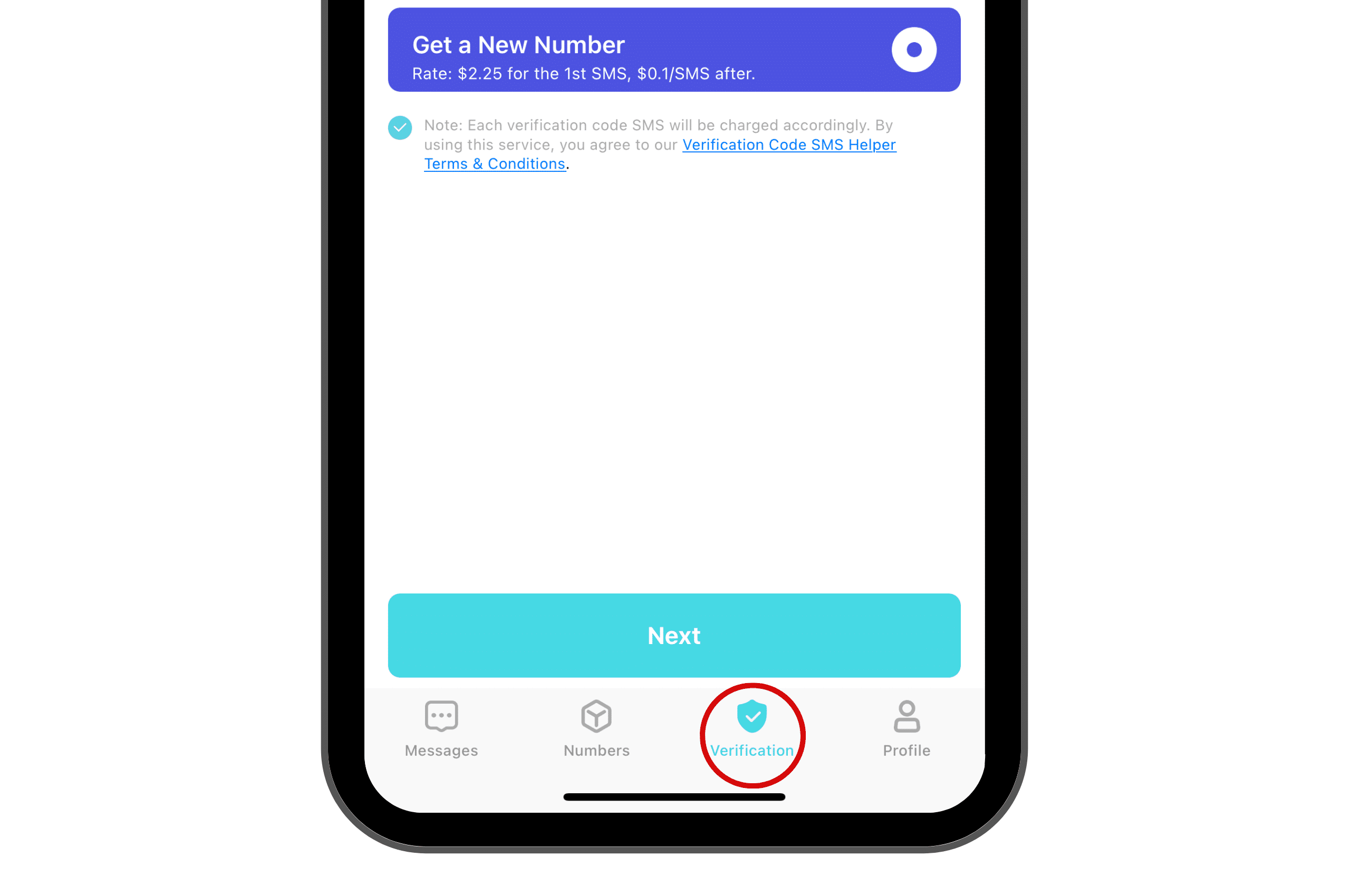 Step 3:
A new screen will appear on your phone. Enter the required information if you want Instacart to receive SMS. On this screen, you will have to select the app whose verification code you need. Since you want an Instacart verification code, select Instacart from the dropdown menu.
After this, select the country or area whose secondary phone number you want. You can have a US, Canada, and UK phone number using the PingMe app. Press the 'Next' button after filling out all options.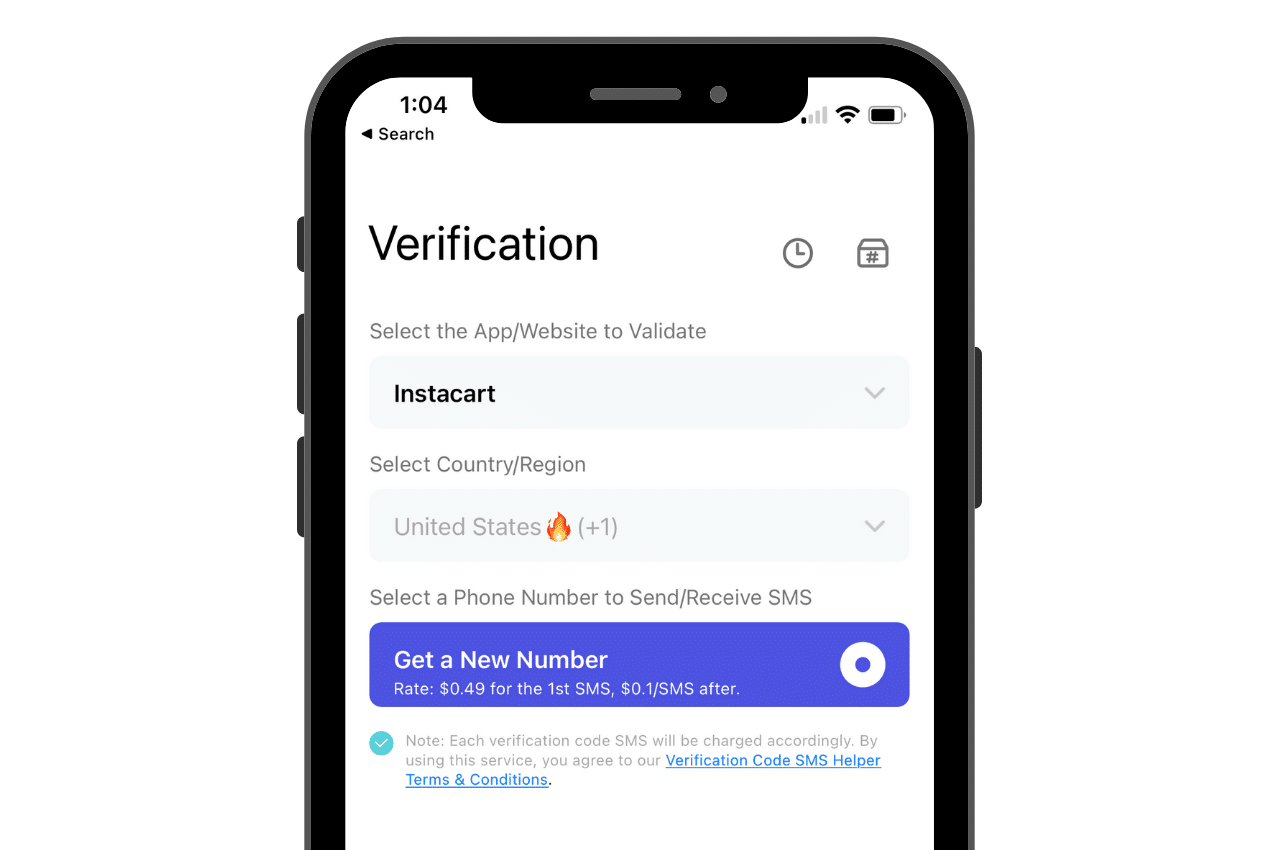 Step 4:
Find the secondary phone number under the 'Please Use Following Phone Number to Validate' text. Open the Instacart app. Go through the Instacart login procedure and open its verification settings. Now, enter the phone number you just received on PingMe here.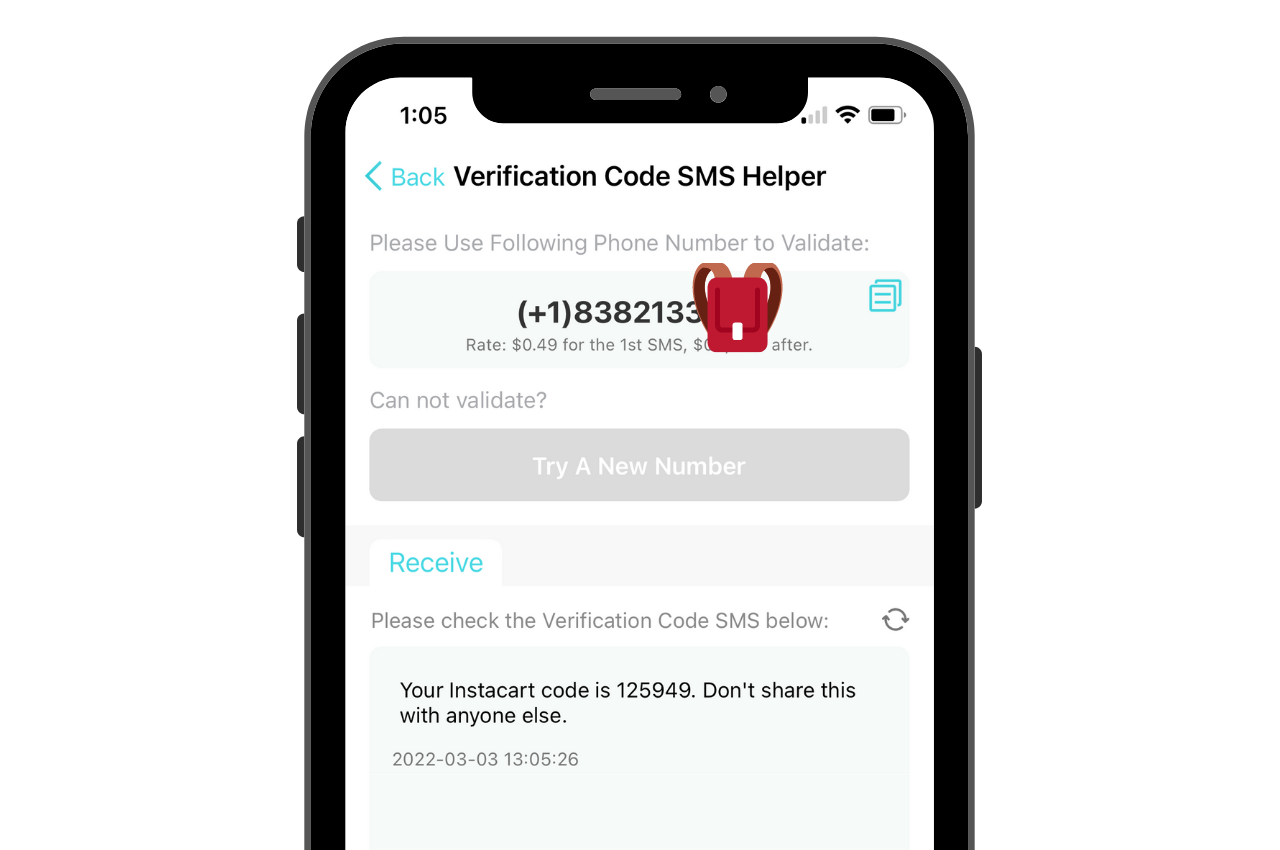 Step 5:
Open the PingMe app again. You will receive SMS in an empty text box. Note down the Instacart verification code from here and enter it into the Instacart app. Your Instacart account will get verified in a few moments. Now, purchase as many grocery items as you want and enjoy Instacart delivery grocery.
If you have any trouble receiving the Instacart verification code, you should go through steps 2 to 5 again to request a new number.
Receive Instacart Verification Codes Online
If you are unable to download the PingMe app, you can still enjoy PingMe services using the PingMe web app. All you need to do is enter your phone number or email address and then click on the 'Get Verification Code' button. PingMe will generate a secondary phone number to Instacart receive SMS containing an Instacart verification code.
You can watch our video tutorial to better understand the whole process.
Is Instacart Free to Use?
Instacart app takes service fee and delivery fee. The service fee depends on different factors, such as your location and the number of items you have in the cart. Their delivery fee starts from $3.99. It varies based on your delivery window.
There are some additional charges as well, such as heavy fees and alcohol service fees. They are taken only under certain situations.
Does Instacart Work with All Stores?
You can shop from thousands of grocers and stores when buying Instacart delivery groceries. Buyers will have a different cart when shopping from different stores.
Are Instacart Prices Higher than Stores?
Retailers and grocers select the price range on the Instacart app. Most items are sold at the same prices as the prices of in-store items. But prices may vary from store to store.
Even if Instacart and in-store items' prices are the same, you will have to pay $10 to $15 extra for their service and delivery fee.
What Is the Standard Delivery Fee for Instacart?
The minimum delivery fee at the Instacart marketplace is around $3.99. It will be more if you select fast delivery or other similar services.
Ready to get your verification code?
Keep your primary number for those who matter. Using PingMe to get a verification code is fast, safe and secure.
First time users get a gift of $0.2 free credit to use towards getting a verification code.